Content Strategy: Devising Solutions for Energy Companies
"John's initiative, skills as a writer, eye for detail, and network of contacts at industry publications helped us achieve a significant level of industry coverage for our project."
— Megan O'Brien, Marketing Manager, Doosan GridTech
Utility Group Benefits from Content That Is Timely Yet Timeless
"We aim to make the most efficient use possible of written materials," Christina said. "By writing content that was 'timely yet timeless,' John put us in a good place."
— Christina Pierson, Director of Public Affairs, Central Minnesota Power Agency/Services (CMPAS), Minnesota.
BEST-PRACTICE RESEARCH ON COMMUNICATIONS CHANNELS
"John listened to us, took time to understand our needs and came back with some very helpful recommendations. If you want to get more bang for your communications buck, contact John and he'll help you figure it out."
— Troy Bergland, Manager of Community Development and Member Relations, Benton REA, Washington
A New Content Strategy: Create it Once, Publish it Everywhere
"John's outsider's perspective, journalist's background and deep expertise in the utility business were invaluable."
— Maurice Chaney, Public Information Officer, Environmental Utilities, City of Roseville, California
The EEC Way: Outside Perspective, Industry Expertise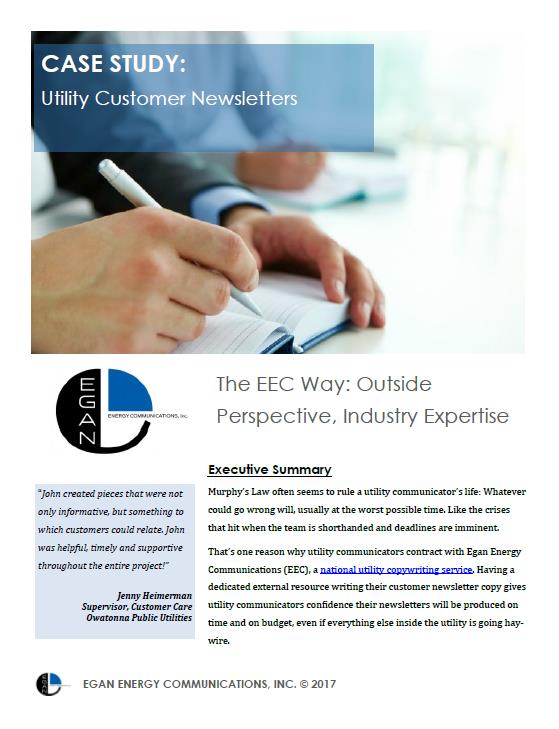 "John created pieces that were not only informative, but something to which customers could relate. John was helpful, timely and supportive throughout the entire project!"
— Jenny Heimerman, Supervisor, Customer Care, Owatonna Public Utilities, Minnesota
Telling Stories in Annual Reports
"Not only does John bring extensive experience and industry knowledge to his work, but he's also flexible and eager to accommodate our feedback, needs and requests."
— Anne Rodriguez, Director of Communications, WPPI Energy, Wisconsin