Making Peace with Stakeholders Who Are Mad as Hell
"I'm as mad as hell, and I'm not going to take it anymore!" Forty years ago Peter Finch won an Academy Award for his haunting portrayal of television newscaster Howard Beale in the movie Network. Beale channels the rage of his age into a nightly newscast that predated reality TV by decades. The two-minute newsroom scene where Beale goes crackers on the air still gives me goose bumps.
Beale styles himself as the "mad prophet of the airwaves denouncing the hypocrisies of our times." The man who wrote that line, Paddy Chayefsky, also won an Academy Award for his work, which was a black comedy informed by an "end-of-the-rope contempt for the corruptions, hypocrisies and humiliations of corporate life and the power of society's image-makers," according to Chayefsky's obituary in The New York Times.
Increasingly, it seems Howard Beale has become every man and woman. We're all fed up. Some of us may be better than others in containing our hair-trigger temper, but as a general statement, many of us are just one tick away from losing it. A particular product, service or interaction may not be completely awful, but still we lash out, disappointed less by the product's failure than the time it will take to return or replace it. And, increasingly, we use social media to share our views.
Chayefsky's name and Beale's character are once more in the news with the publication of a new book, Mad as Hell: The Making of Network and the Fateful Vision of the Angriest Man in the Movies. New York Times columnist Maureen Dowd asks what Howard Beale or Paddy Chayefsky would make of today's corporate and media landscape. The Atlantic riffs on how Beale's character created a template for today's era of outrage.
The social, economic and consumer forces that drove Beale to madness are not only still with us, they have gotten exponentially worse over the last 40 years. Utilities cannot insulate themselves from today's age of rage. In a recent column in Intelligent Utility, Kathleen Wolf Davis provocatively asked, "How pissed off are your customers?"
The answer, it appears, is "plenty." She cites the 2013 Customer Rage Study conducted by two consulting firms in collaboration with Arizona State University's business school, which found, among other things:
The number of households experiencing customer rage went up from 60 percent two years ago to 68 percent this year.
The amount of people yelling at customer service representatives went up from 25 percent in previous rage studies to 36 percent in 2013. Cursing jumped from 7 to 13 percent.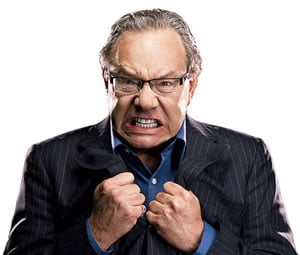 Maybe that's why comedian Lewis Black is so popular today. Black's on-stage comedy is a foul-mouthed rant against consumerism, politicians, corporations, religion, bottled water, diets, milk, even the weather. His everyman persona is unable to contain his simmering rage. He comes, he seethes, he explodes. A comedic hand grenade whose pin was pulled long ago, Black's comedy aptly reflects the tenor of our times.
Black's comedy is instructive. Like Beale's newscaster– and, apparently, a growing number of consumers — Black is perennially at the end of his rope. Enraged by forces he can't control (the economy, the Russians, the weather, the politicians), he lashes out atpeople and things closer to home.
Communications tip of the month: Customer anger is a real and rising social phenomenon affecting all businesses, including utilities. The situation likely will get worse before it gets better. But utilities can defuse customer anger and build more productive relationships with the right mix of actions and messages.
And today, unlike in Beale's era in the 1970s, consumers can use social media to broadcast their unhappiness and advocate for change. Activists used social media as a stick to beat Pacific Gas & Electric into submission on advanced digital meters. Other utilities, including Duke Energy, American Electric Power and Xcel Energy, have been targeted for their heavy reliance on coal.
The trends summarized in the Consumer Rage Study affect all businesses, not just utilities. But utilities do seem to catch a disproportionate share of consumer criticism. A lot of that has to do with the nature of the business: Consumers like choice, but they rarely have that when it comes to utilities. That frustrates them. If consumers had viable alternatives to their existing utilities, their rage might dissipate.
Utilities could improve relations with perennially enraged customers by messaging more effectively and making customers part of the solution.
A public affairs manager at a well-regarded utility that was in the middle of a multi-year price increase cycle shared her utility's approach to messaging:
"Instead of using 'victim' messaging like 'we can't control fuel costs,' we are accentuating what we are doing to manage or lower costs for our essential services, showcasing how we're running the business in an excellent fashion. Do you have to show and tell customers this? Yes, you do—and you have to do it regularly. … In your messaging, you need to explain why your prices are going up. But explaining the problem doesn't absolve you of the responsibility for working to find solutions. You need to show your customers what you are doing to solve their problems."
Messaging, while important, is only half the challenge. Actions are the other half.
A few years back one utility, Kansas City Power & Light, really embraced stakeholder engagement when developing its comprehensive energy plan. Rather than create a plan behind closed doors and then attempt to sell it to various external groups, KCP&L's leaders tore down the proverbial walls and invited the outsiders in so they could work together to create a long-term energy plan that balanced the interest of various stakeholder groups, which included employees, customers, environmental groups, regulators, investors, and community leaders. KCP&L deservedly won awards for its wise insistence that affected external parties needed to be part of what had been a strictly internal process.
Another utility, the Omaha Public Power District (OPPD), launched its "OPPD Listens" campaign last year to ensure its decisions on power generation incorporated the community's views. Here's how OPPD, a perennial J.D. Power customer satisfaction winner, described its stakeholder outreach: "OPPD Listens… and needs your help! In an effort to continue providing affordable, reliable and environmentally sensitive energy services to all of our customers, we are seeking input regarding what our power generation options are today and for the future." OPPD won positive media coverage for its efforts to be transparent and inclusive.
If consumers are feeling angry because they feel their voices are not being heard, why not make them part of the discussion? A well-crafted stakeholder engagement program will surface ideas and options a utility may have overlooked. This is particularly important now that utilities plan to spend heavily to clean up their power plants, build new generation and transmission projects and expand their distribution networks.
Though some may disagree, I believe businesses, particularly large local ones like utilities, can no longer make important decisions affecting the public using an exclusively private, internal process. Utilities are at the center of a complex web of relationships that include customers, employees, communities, suppliers, investors and others.
Utilities like KCP&L and OPPD that have their finger on the pulse of today's always-simmering consumers, and take meaningful steps to remedy that with honest actions and effective messaging, will find a way to productively collaborate with their customers, which benefits all parties. Utilities that don't are likely to find the next few years much more challenging, frustrating and expensive.
---
---