Gifts for Energy Communicators: Our Best-Read Content from 2020
Gifts for Energy Communicators: Our Best-Read Content from 2020
We're finally winding down a year like no other. Nearly all of our workplaces, if not our lives, were roiled by the COVID-19 pandemic. A record number of hurricanes hit the U.S., mainly along the Gulf Coast, and another active wildfire season engulfed parts of California, the Pacific Northwest and Colorado. Droughts alternated with torrential downpours. And there were many instances of civil unrest following the deaths of typically unarmed Black men and women.
Through it all, we persevered, working differently, living differently and fired by a renewed sense of purpose. We can't send Starbucks gift cards to every energy communicator and marketer who deserves one this year, but we can present you with our best-read content of 2020. No need to wait until December 25 to unwrap your present from EEC!
WHEN WRITING ABOUT SAFETY, DON'T BORE YOUR READERS TO DEATH!
Nearly every energy communicator had to write about safety at some point during 2020. Some wrote about nothing else. The COVID-19 pandemic led to a surge in energy-company communications about safety, such as social distancing, hand washing, mask-wearing and working from home.
For our 2021 New Year's resolution, could we commit to writing more engaging copy and using edgier art? A mentor once told me, "People will die soon enough. Try not to bore them to death with your copy."
Read all about it here.
POWERPOINT & VIDEO CONFERENCE CALLS: THE RULES HAVEN'T CHANGED
Virtually no one went to in-person conferences in 2020, but the pandemic required all of us to master new technology platforms like Zoom, Microsoft Teams, GoTo Meeting and the like.
And PowerPoint was used in many of those virtual meetings and conferences. So whether you're presenting in person or virtually, the rules for what makes a good presentation good haven't changed.
Read more here for three rules to guide your content development and delivery when speaking in a formalized setting like a conference or virtual conference.
CUSTOMER SATISFACTION: FIXING SMALL PROBLEMS BEFORE THEY BECOME BIG ONES
"Chance favors the prepared mind," Louis Pasteur once remarked. The truth of that statement was demonstrated this year, when those energy companies that took COVID-19 seriously sprang into action early and were better prepared to fight the pandemic. But not every energy company acted as rapidly as the early adopters, sadly.
It's no different with customer satisfaction. Market research is readily available to companies that want to identify and fix small problems before they become big problems. Some do, but in my experience many don't. This will be a huge challenge for 2021, as customer relationships have been disrupted by the pandemic. When revenue streams decline, as they did during 2020, "non-essential" outlays can get deferred or cancelled.
This year, we profiled one energy organization that took a hard look at why their customer satisfaction was falling, and then worked to reverse it.
Click here for the full success story.
ENVIRONMENTAL COMMUNICATIONS FOR EARTH DAY — AND EVERY DAY!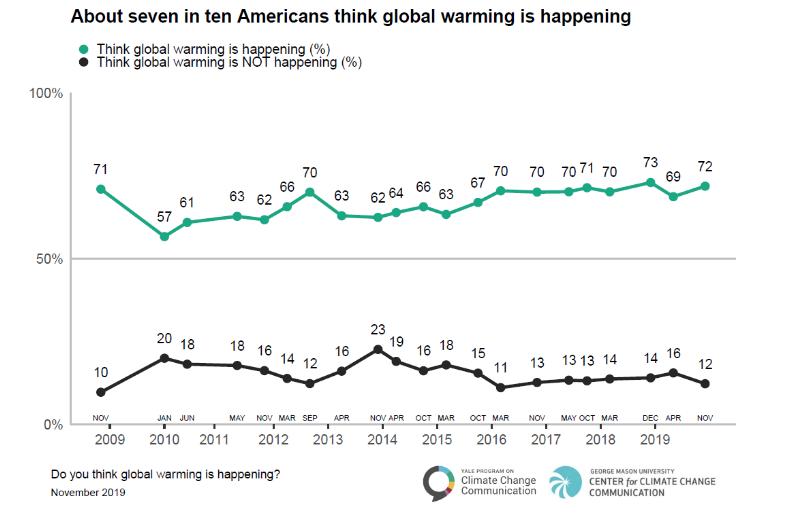 Environmental communications were rising in importance long before Joe Biden was elected president last month. In fact, 2020 was the year when Environment, Social and Governance (ESG) issues got to the top tier of concerns at some leading energy companies.
If seven of 10 people believe climate change is happening (above), it's long past the point of argument. Some energy companies recognize that.
Check out our post here
How to Write a Press Release: Tips from Both Sides of the Laptop
I'm always interested when a "how to" blog post is widely read. This year we had two "how to" pieces of content that, it appears, resonated with readers: how to use PowerPoint effectively (see above) and how to write a news release.
Maybe the years I spent as a reporter, consuming news releases written by others, is finally paying off!
You can check out this blog post here
While we hope your Christmas stocking will be stuffed with presents and candy, not coal, our more important hope is that you find these pieces, and other content on the EEC website, to be useful in your work.
As we approach 2021, I urge readers to be kind, do good work and don't forget to stay in touch! The pandemic has reminded us of the importance of all three.
Photo Credits: iStock unless otherwise noted.
---
---